Welcome back! If you're a regular reader of the K.A.C., you've heard me go on (and on) about my never-ending battle with my wife about the annual Christmas tree (i.e., real vs. artificial). Every year it's the same argument ... and every year I lose it and head out to get a real Christmas tree.
This year, however, I think I may have finally found a happy medium. It's real AND artificial! Yep, a LIVE person can come and stand at our house with her Christmas-tree hairstyle! What do you think? I must be making this up, you say? Nope - it's real (well ...) and is just ONE of many eye-popping Holiday Hairstyles ... go and take a look. Who knows, there may be something here that inspires you for this year's office party!
http://www.cutegirlshairstyles.com/mindy-mindless-ramblings/strange-christmas-hairstyles/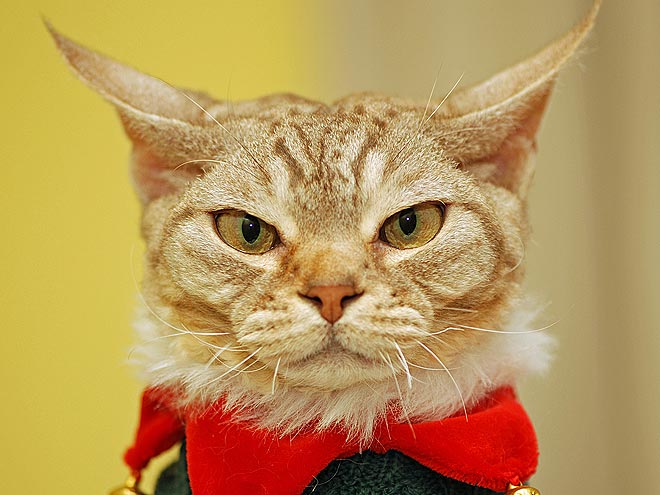 Want the perfect accessory for that godawful hair? If you're a pet person, then drag poor Fido or the "so not amused" Bee Gee (as seen on our right) into the mix with Ugly Christmas Pet Sweaters! What used to be the proud (?) domain of the 'taste-challenged' segment of humanity has expanded its reach into all levels of the animal kingdom - here are 14 examples for your perusal!
http://www.peoplepets.com/people/pets/gallery/0,,20491532_21093788,00.html#21093788
Finally, we'll leave you with this very cute Christmas ad from the UK retailer John Lewis. Called 'The Journey', it's a touching tale about a snowman's love for his snow woman (snow lady?) and to what lengths he's willing to go to prove it to her. Enjoy!
http://www.thesun.co.uk/sol/homepage/features/4635979/John-Lewis-unveil-new-Christmas-advert-lovestuck-snowman.html
More tomorrow!