Good morning! Who doesn't like a good book for Christmas? I mean a REAL book, not the Kindle or Nook ebook players ... with that in mind, here's some ideas for your favorite reading reindeer this year ...
AbeBooks.com has a fun recommended books page that they update regularly called the "Weird Reads" page. They turned their staff loose on Christmas reads and came up with some amazing titles, such as A Yak For Christmas, The Little Book of Christmas Stress and Stocking Stuffers: Homoerotic Christmas Tales! All this plus Holiday Hounds, Haunted Tea-Cozies and more! Check it out here:
http://www.abebooks.com/books/christmas-santa-rudolph-holiday-toyland/weird-christmas.shtml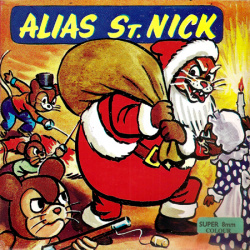 It's been far too long since I put up another cinematic candy cane ... this time we have a Harman-Ising cartoon from 1935 called "Alias Saint Nick", the first in a series of cartoons featuring the mouse Little Cheeser. (After the success of Disney's Mickey Mouse, every other animation studio got on the mouse bandwagon, trying to get lightning to strike in a bottle twice ... with none of them realizing it had nothing to do with the character being a mouse, but rather with the animator's ability to breathe life and character into the drawings and situations) - it's pretty painful going and pretty typical of what passed as entertainment from the other animation studios of the time - enjoy! http://www.youtube.com/watch?v=bL6SFG_K9Sg
More tomorrow!