Now that you've got your tree up (see our entry from yesterday), you're going to need ornaments to put on it! The ornaments a person has on their tree always says something about the person himself. In the cases that follow, I believe what they are saying is, "Avoid eye contact and slowly head back out the door!"
For example, this (rather fat) Dracula ornament is probably NOT what you would normally expect to find upon first sight, nor his companion Frankenstein (at right). But decorating a tree is all about balance - if you have one, then you have to have the other.
If that's too grim for you and you want something lighter to set the mood for your tree, then there's always ... a flamingo ... in a Christmas dress ... and boots ... whoa.
Hmmm - strange enough for you? No matter what your preference or interest, there is an ornament out to suit your tastes. Be it Cthulhu or Catwoman, somebody somewhere has you covered. Keep in mind, we're talking the truly outre' ornaments here, not the candy canes and Santa balls, etc., that have been passed down in the family for generations. Speaking of that, with my Mom's passing, we inherited a boxful of her old ornaments (most of which had to be tossed, due to broken bits, etc.) - but now have two glass poodles (or one glass poodle and 'maybe' a glass cat) for the tree. Ever wonder what happens to painted glass ornaments after 25+years in an uninsulated baking attic??? Stick around, I'll post pictures of them later this year!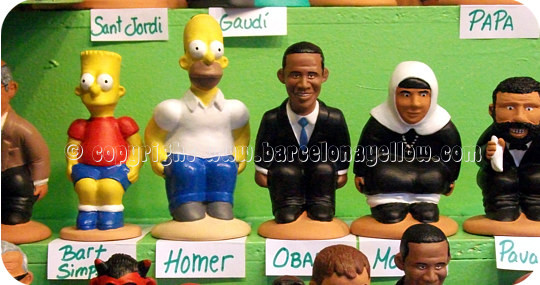 Want to offend the more uptight members of your family? There's always the Caganer, or "Pooping Elf", ornaments (for more on the Caganer tradition, see my entry of December 16th, 2010) - there's also celebrity Caganers, such as those pictured here! From the Simpsons to celebrities to world political figures, there's a Caganer with dropped trou for everyone in the family!
The whole explosion of the unusual ornaments took off at warp speed with the annual Hallmark Star Trek ornaments that were the rage for awhile. Every variation of the Starship Enterprise (many with lights and sounds) then gave way to other figural ornaments, including cast members from the shows, etc. After the popularity of those caught on with the fans, other properties were soon to follow: want the Force to be with your tree? You could decorate it all Star Wars! Want Team Edward of Team Jacob to fight over your beautiful, yet demure decorations? Then the Twilight Keepsakes Collection is for you ... the list goes on and on.
And what, you ask, is the STRANGEST ornament I've uncovered this year? Hands down, it HAS to be this ... the Village People Merman Collection! I know, I know, I thought the same thing - where's the Indian Chief? Probably already snapped up for someone's home! Now I KNOW some of you MUST HAVE these for your own home, so I won't leave you hanging ... the company who makes them is called December Diamonds and here's their link!
http://www.citylightscollectibles.com/brands/december-diamonds.html?gclid=COK8pLiinckCFdgUgQod6qQEKw
For those of you who prefer the more tradition ornaments and want to read more about them (along with a brief history), may I direct you here:
http://en.wikipedia.org/wiki/Christmas_ornaments
As you might expect, our tree is a hodgepodge of ornaments - from traditional family glass baubles to handmade ornaments from friends - from the USS Constitution to Betty Boop and from chupacabras to colored glass, there's a little something for everyone on it. Here is a side view of our tree from last year - click on the picture for a larger look. The white snowman with the picture in his belly was a handmade one when my son was in daycare and the red 'Walt' ornament to the right of that is actually NOT mine - it belonged to my father and is from the late 1940s - early 1950s - probably the oldest ornament we have. There are also wooden ones and hand-crafted knitted ones - and they all tell a story.
So get out there and get some odd ornaments of your own - and let YOUR stories begin!
Back tomorrow!