Concerned about the paucity of Creepy Christmas Cinema, faithful followers? Fret not, for today is YOUR day! Let's begin with this 1958 Coke commercial with a seemingly innocent Santa doll at the base of the tree ... who comes to life at the end ... and the family was never seen again ... (shades of Chucky)!
http://www.popscreen.com/v/64Bp5/1958-Coke-Santa-Doll-Christmas-Commercial
Think HE'S creepy? Then feel the icy fingers of fear work their way down your spine with Remco's Baby Laugh-A-Lot! Can you just imagine what future raving maniacs THIS inspired? Watch the commercial for 30 seconds of pure terror!
http://www.youtube.com/watch?feature=player_embedded&v=44e-Y08_B-0
Which leads us to our winner for the 2012 Worst Christmas Film Ever Contest! From 1984, it's a terrifying bit of tinsel called Here Comes Santa Claus! Originally a French musical dubbed into English, it features a brother and sister who want Santa to go on a rescue mission to get back their kidnapped -by-mercenaries parents ... sounds good so far, right? Then you'll REALLY love the scene where Santa battles a crocodile! Oh, did I mention the parents are being held hostage in AFRICA? Did I mention the kids take a plane to Finland and decide to walk to the North Pole to find him? Did I mention Santa's immortal line to the kids, "Go on and sit down on the bed over there ..." =:O !!! Needless to say, this film has NOT aged well - but my description doesn't begin to do it justice - for that, take a look at The Back Row blog and Robin's write-up, complete with a 10-minute clip and an ending that will make the hairs stand up on your neck!
http://the-back-row.com/blog/2010/12/17/robins-weird-christmas-movies-here-comes-santa-claus-1984/
I couldn't help but wonder while watching that clip, "What if while the kids were resting by side of the road they really HAD died of frostbite and the rest of the film from there on was them in the Afterlife?" NOW the movie makes sense! Don't judge me! :)
The end of that clip reminds me of this picture at right (from www.engrish.com) - some things were never meant to go together!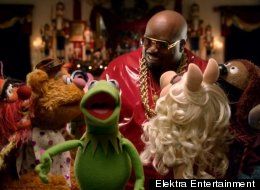 Let's end our video voyage on a high note (which, believe me, is a rarity in itself on this site) with a cute holiday video just released, starring Ce-Lo Green and the Muppets. It's seven minutes of silliness and the usual Muppet Mayhem - called "All I Need Is Love".
Enjoy!
http://www.huffingtonpost.com/2012/11/26/cee-lo-green-the-muppets-all-i-need-is-love_n_2193230.html?utm_hp_ref=entertainment
Come back tomorrow as we continue our countdown, featuring Handcrafted Holiday Horrors!