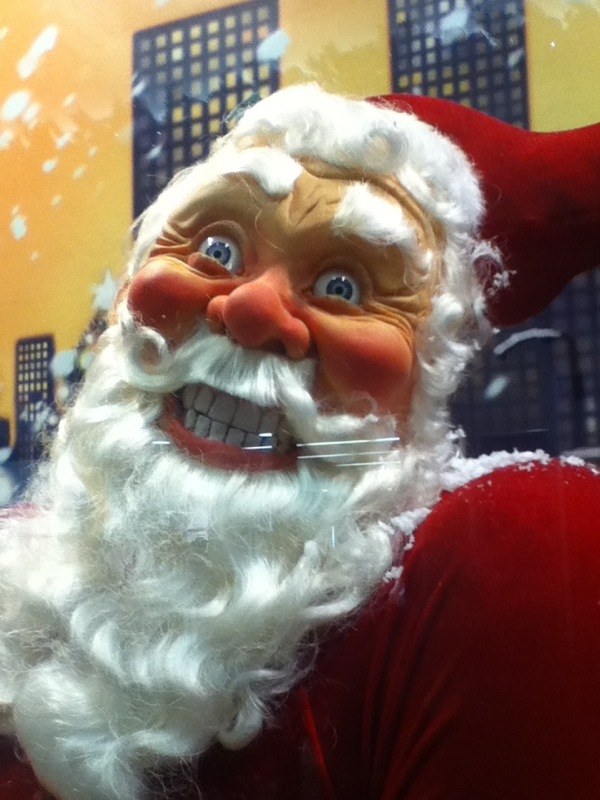 Welcome back! Are YOU all smiles after yesterday's Kringle's Khristmas Kuties quiz? Did you get all nine answers? NO? Well, far be it from us here at the K.A.C. to let you languish a moment longer than necessary - the answers are revealed below! This year's participants were:
# 1 - Bill Nighy (seen in his 'music video' in the film LOVE ACTUALLY).
# 2 - A very young and cute Judi Dench - surprise!
# 3 - Yvonne Craig (TV's 'Batgirl') - seemed only appropriate with the release of the 1966 TV series on DVD (finally!) this year.
# 4 - Elvis Presley - The King - SURELY you got this one?
# 5 - The Fab Four, aka The Beatles.
# 6 - Look closely under that beard ... the eyes give it away - that 'Saint'-ly Santa is none other than former 007 Roger Moore!
# 7 - The pixie-ish sprite donating to the cause for the holidays is a young Angela Lansbury.
# 8 - Another head-scratcher for some ... long time Fred Astaire dancing partner Ginger Rogers!
# 9 - Finally, the Santa getting the beard pull is (you should have guessed this one from the gap-toothed grimace) famous British comedian Terry-Thomas.
*******************************************************************
Bonus: our first Christmas short of the season! Over the years I've tracked down a lot of the older (and stranger) shorts for the K.A.C. - nowadays, you see very little new holiday material coming from the traditional animation studios. That's why my searches have taken me further afield to the independent studios to see what they are coming out with. It was while I was on one of these excursions that I came across 'Escape', a 2005 short by DigitalKick that was originally sent out as a holiday card to their clients. It's five minutes of peacefulness and serenity in this otherwise hectic season. Enjoy!
https://www.youtube.com/watch?v=9DUXYhMSaGo&hd=1
***************************************************************************
Back tomorrow with more!