Our second Christmas short of the season is this wonderful extended trailer for a proposed film called CHRISTMAS KNIGHT. Made in 2012 by Mike Hill and his partner Jessica Capasso, it's an inspiring tale of the one person the world can depend on to protect the planet when aliens attack. Take a look at it and see how many superhero homages you can spot! I would have loved to have seen this as a full feature, but it will (sadly) have to remain an unfulfilled Christmas wish.
http://dsiciliano66.wix.com/christmasknight#!
**************************************
Let's wrap up the holiday gift guide with the third and final part of Quint's List, Part 3! This edition is chock-full of games, both the board and computer variety, of every shape, size and description. It's also got every sort of toy and bizarro gift for the impossible to buy for, starting with this: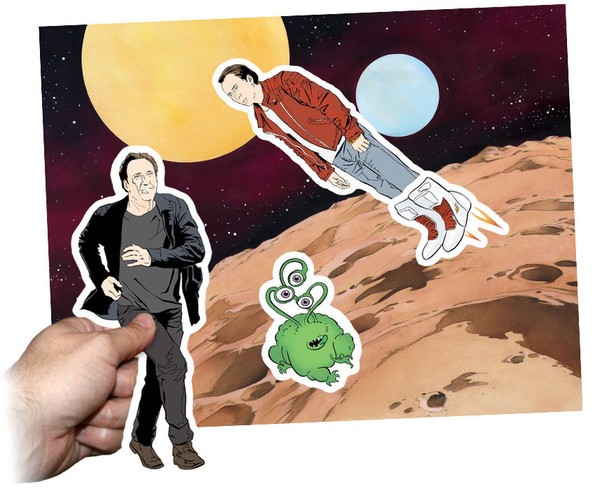 Remember Colorforms? No? You would if you grew up during the 1960s or '70s - they consisted of a laminated background set and various plastic pieces you could put down on it, then peel off and replace them somewhere else on the set. Hey, don't look at me like that! This is what passed for FUN back in the day! Yes, I had them (and actually still have one today) - if YOU want to find out what the fun and excitement was about, here's your chance! The toy has been updated and re-named (for pesky legal reasons), but WE know what it really is! And who better to star in such a cheesefest than the one and only Nicolas Cage! Titled the 'Nicolas Cage Adventure Set', YOU can have hours of fun with NC on the moon OR in a thrilling jungle adventure setting, battling to find a lost city. How much is this going to set you back, you ask? Can you believe only $12.00? How can you pass up on THAT bargain? Answer - you can't! Here's how to get yours!
http://brandonbird.myshopify.com/collections/new-featured/products/the-nicolas-cage-adventure-set
Next up: Avengers Nesting Dolls! I shouldn't even need to say any more about this, except to point out that neither Hawkeye nor Black Widow made the grade here ... perhaps that's just as well, as that might be weird ... yeah, even I can't believe I just typed that! You know you want a set, so here you go!
http://www.amazon.com/gp/product/B00NQJMIIO?ie=UTF8&camp=1789&creativeASIN=B00NQJMIIO&linkCode=xm2&tag=aintitcooln0b-20
If you're TRULY stuck trying to find the perfect gift for the fanboy or fangirl on your list, we have you covered there, as well. Why get them ONE gift when you can give them a WHOLE BOX of surprise gifts each month? There are two companies that offer this service - they're called Loot Crate and Dinosaur Dracula. You never know what you'll get each month (that's why they're called SURPRISES), but it will be interesting! Here's the link to both companies:
Loot Crate:
http://www.lootcrate.com/?campaignid=407&mbsy=9dgV7&discount_value=%245&utm_source=ambassador&utm_medium=referral&utm_campaign=Ambassador
Dinosaur Dracula:
http://dinosaurdracula.com/blog/december-funpack/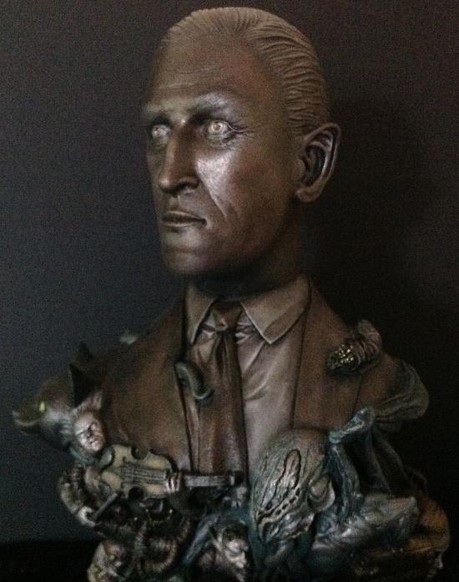 There's all sorts of Legos of licensed figures, as well as action figures, collectible statues, etc., for every budget. I was particularly taken with this H.P. Lovecraft bust, showing a number of his more memorable literary creations encircling him. He comes from Black Heart Enterprises and is going to set you back a cool $200, but ... say, what's that whispering voice? Ah, I see, the Great Cthulhu demands you get this! Think long and hard on your reply - it's not nice to piss off the Old Ones!
http://www.blackheartmodels.com/ecommerce/h-p-lovecraft-tribute-bust.html
If you want the bragging rights of being the Ultimate Star Wars Fan (and if you've struck it rich in your smuggling runs in the Millennium Falcon), you're going to want to display this Life-Size Boba Fett! I have absolutely NO idea what you're going to DO with this thing once you have it, except dust it, talk to it when you're alone and wonder where your $7,500.00 went ... no, that is NOT a typo. Even without moving a muscle, Boba Fett has already made a nice commission on this bounty!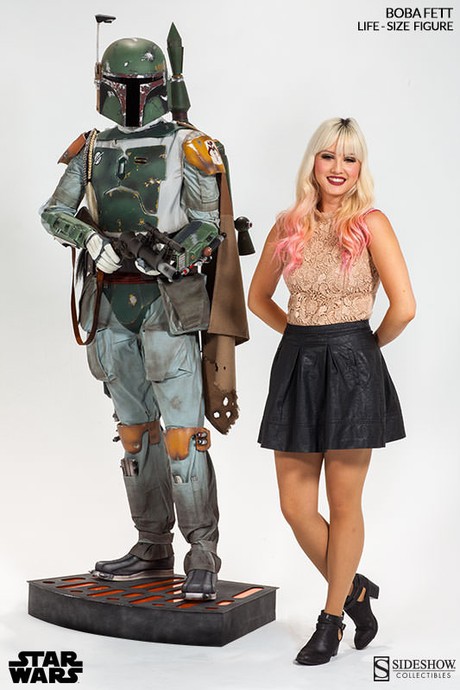 http://www.sideshowtoy.com/collectibles/star-wars-boba-fett-sideshow-collectibles-400111/
There's a ton more stuff to explore at the link below, so get crackin!
http://www.aintitcool.com/node/69614
**********************************************
That closes out our gift giving guide for this year - come back tomorrow as we wind down our final eight days!